We always have something to look forward to at The Powder Room and are always planning something exciting for you . Our parties are renowned for being epic and we are delighted to be able to welcome you all back in the salon for some fun and a catch up.   We have a few events planned but stay tuned as we will update this page regularly with our events and some in the local area.
Please scroll to the end for full details.
ALL TICKETS AVAILABLE ONLINE CLICK THE RED BUTTON AT THE END OF THIS PAGE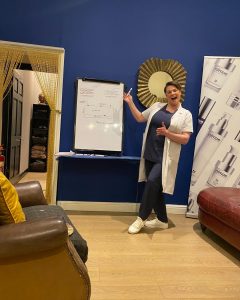 SKIN WORKSHOPS – NEW DATES RELEASED
17.30-19.30  TICKETS £20 ( 10 PLACES AVAILABLE )
WED 25 MAY
WED 29 JUNE 
Bring your friends for this one of a kind workshop £20 pp and enjoy some Prosecco while we show you how to get your best skin ever.
We will be busting some Myths and telling you some top tips and insider information from the award winning Nimue skin specialists !
YOU EVEN GET A FREE GIFT VOUCHER FOR A NIMUE  CLEANSE AND SKIN ANALYSIS 
✅You get a full personalised skin consultation
✅ Fully interactive demo where we show you how to cleanse properly
✅ Informative Presentation on how the skin functions
✅Bespoke Treatment plan
✅ Info pack to take away with FREE helpful guides
WE WILL BE TEACHING YOU
✅How to do the enzyme exfoliation at home
✅ Why SPF is so important
✅ How to slow down the ageing process
WE WILL ANSWER YOUR SKIN DILEMMAS AND FAQ INCLUDING:
✅ What about fillers and injections ?
✅ Why is my skin red ?
✅ Nothing I have tried so far works. Why will this work for me ?
✅ What make Nimue different
✅ What are serums and when is best to use them ?
✅ Which serum is best for me  ?
✅ How do I fit all this into my busy life  ?