Nimue skin technology is a derma-cosmeceutical brand renowned for its innovative formulations, cutting edge technology and effective strength of active ingredients. This product treats the cause and not the symptom delivering outstanding results. We can successfully treat fine lines, wrinkles, sagging skin, pigmentation, uneven tone, dryness, oiliness, acne, rosacea, eczema.
Book Your skin consultation today to see how our expert nimue skin specialists can help you.
We can get your skin functioning better and glowing with health. Ideal for weddings for bridal skin tips or other special occasions that you want your skin to look its best.
We also have a support page on the website to help you along your skin journey. On there you will find links to join our Facebook community on our Nimue support group and lots of helpful hints to simplify your skincare routine.
Energising Enzyme Facial                                                   (30 mins)    £30
This is an energising skin treatment that includes a full consultation, deep cleanse, enzyme exfoliation and soothing transdermal solution. It increases the energy of your skin and makes it feel invigorated and radiant. The treatment will finish with a customised prescription and treatment plan. Can be performed even if homecare has not been in place prior.
THIS FACIAL IS IDEAL AS INTRODUCTION TO NIMUE FOR EVERYONE –
ALSO A GREAT CHOICE FOR TEENS – ASK ABOUT THE NIMUE YOUTH HOMECARE RANGE
Thermal Detox Peel                                                                        (30 mins)    £45
This is an 4-in-1 treatment peel combining a foaming action with a thermo-sensory mechanism that deep cleanses, detoxifies, oxygenates and exfoliates the skin. It will stimulate the senses with its rich charcoal/black colour, its foaming/bubbling action and warming sensation on the skin. It is ideal for a first-time Nimue client or as a flash treatment if you are pressed for time. If you are looking for a peel that delivers instant results in one treatment this is a great place to start. Can be performed even if homecare has not been in place prior

Therapeutic customised Nimue Facial                            (60 mins)     £50
​This is a specialised relaxing treatment customised to your specific needs,  designed to treat environmentally damaged, hyper pigmented, problematic and interactive skin as a comforting monthly pamper and maintenance treatment. Can be performed even if homecare has not been in place prior.
It includes a deep cleanse and condition, then enzyme exfoliation followed by a specific treatment mask and neck and shoulder massage.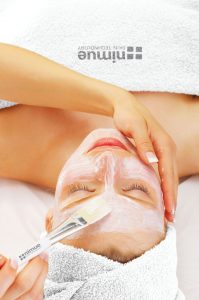 Extra Relaxing Therapeutic Nimue Facial                       90 min     £65
This is pure bliss from the start – first a 15 min back massage is performed to get you relaxed, then deep cleanse, condition , enzyme exfoliation, facial massage with pressure points and lymph drainage, also gua sha crystal massage. Plus prescriptive cream mask, neck shoulder massage then scalp or hand and arm massage to finish. This is the ultimate choice when you want results but also to relax in your facial.
Advanced Skin Peeling Treatments 
The following advanced facial treatments will only achieve results if nimue homecare has been in place for at least 6 weeks prior, as the skin must be prepared in order for the active ingredients to work to their full potential. starter kits are available which provide 6 weeks of product tailored to your skin classification. Then full sizes to follow.
Advanced Active Rejuvenation Peel                            (60 mins)    £65
​An active rejuvenation treatment with 15% AHA  Bio-active Complex is designed to treat sun damaged, environmentally damaged and hyper pigmented skin; utilising the latest ingredient technology to help improve your skin elasticity, tone, texture, radiance and luminosity.  This is an advanced stage 3 treatment only available after completion of stage 1 and 2 with homecare usage for a minimum of 6 weeks .This facial is not recommended for sensitive or interactive skin.
*Ask about Super fluid add on to enhance your peel
NIMUE GLYCOLIC PEEL FACIAL                                     (60 mins)   £70   
This 35 % glycolic acid peel delivers outstanding results including refined skin texture and enhanced penetration of active ingredients. It is a perfect step up along your nimue journey. The recommended homecare must be in place for at least 6 weeks prior and ideally bio active peel should be done before this one. This is to ensure the skin is fully prepared to receive these advanced treatment protocols.
– ASK IN SALON FOR MORE INFORMATION FULL CONSULTATION REQUIRED
SMART RESURFACER PEEL                                                   (60 mins )     £75
This treatment is the strongest peel nimue offer it stimulates cell renewal, boosts hydration, helps reduce lines and wrinkles, provides a more even skin tone, helps fade pigmentation, refines skins texture and improves radiance. This will get outstanding results.
– ASK IN SALON FOR MORE INFORMATION FULL CONSULTATION REQUIRED

Nimue Advanced Micro needling Facial                         (45 mins )   £110 
This treatment is our most advanced facial to date, it uses a dermal roller to produce microscopic channels in the skin to stimulate the body's natural production of collagen. This in turn plumps and improves texture, treats deeper lines and wrinkles along with scarring and pigmentation.
45 min facial , a course of 6 is recommended for maximum results, only available with Natalie  – award winning nimue skin specialist
PAY FOR 5 GET ONE HALF PRICE = TOTAL COST OF COURSE £605

BOOK ONLINE HERE   
PLEASE NOTE A FULL CONSULTATION IS REQUIRED BEFORE BOOKING ANY ADVANCED FACIALS