Nimue skin technology is a derma-cosmeceutical brand renowned for its innovative formulations, cutting edge technology and effective strength of active ingredients. This product treats the cause and not the symptom delivering outstanding results. We can successfully treat fine lines, wrinkles, sagging skin, pigmentation, uneven tone, dryness, oiliness, acne, rosacea, eczema. Book Your FREE consultation today to see how our expert therapists can help you.
Express Enzyme Facial  (30 mins)     £30
This is an express skin treatment that includes a full consultation, deep cleanse, enzyme exfoliation and soothing transdermal solution. It increases the energy of your skin and makes it feel invigorated and radiant. The treatment will finish with a customised prescription and treatment plan.
Custom Nimue Facial (60 mins)     £50
​This is a specialised relaxing treatment customised to your specific needs,  designed to treat environmentally damaged, hyper pigmented, problematic and interactive skin as a comforting monthly pamper and maintenance treatment.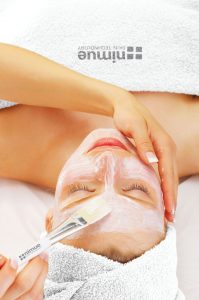 Thermal Detox Peel   (30 mins)               £45
This is an 4-in-1 treatment peel combining a foaming action with a thermo-sensory mechanism that deep cleanses, detoxifies, oxygenates and exfoliates the skin. It will stimulate the senses with its rich charcoal/black colour, its foaming/bubbling action and warming sensation on the skin. It is ideal for a first-time Nimue client or as a flash treatment when a client is pressed for time or looking for a peel that delivers instant results in one treatment.
Active Rejuvenation Peel  (60 mins)        £65
​An active rejuvenation treatment with 15% AHA  Bio-active Complex is designed to treat sun damaged, environmentally damaged and hyper pigmented skin; utilising the latest ingredient technology to help  improve your skin elasticity, tone, texture, radiance and luminosity.                                                        This is an advanced stage 3 treatment only available after completion of stage 1 and 2 with homecare usage for a minimum of 6 weeks .                                              This facial is not recommended for sensitive or interactive skin.                                  *Ask about Super fluid add on to enhance your peel
NIMUE GLYCOLIC PEEL FACIAL     £70   
– ASK IN SALON FOR MORE INFORMATION FULL CONSULTATION REQUIRED
SMART RESURFACER PEEL  £75
– ASK IN SALON FOR MORE INFORMATION FULL CONSULTATION REQUIRED
Custom NIMUE Diamond Facial  (30 min)           £40
Diamond microderm​abrasion combined with Nimue skin technology products to deliver outstanding results.

BOOK ONLINE HERE  
http://www.mylocalsalon.co.uk/thepowderroombirstall
BUY A VOUCHER HERE 
https://www.robovoucher.com/uk-thepowderroom