Massage
We use Neal's Yard pre blended aromatherapy oils to give you a relaxing or uplifting treatment of your choice. 
Target Back Massage 25 min  £35
This massage targets the areas of concern to tailor the treatment to the individual needs. The therapist will advise the best pressure to help relieve your tension.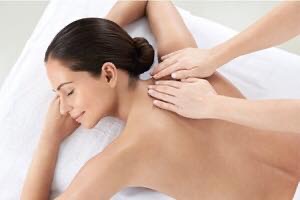 Body Massage 55 min £60
This massage includes legs, arms and back to deeply relax the tension in your body.
Take a look at the upgrade options below to enhance your treatment experience.
Upgrade options :
Add on 10 min scalp, neck and shoulder massage £10    There can be a lot of tension held in the scalp, neck and shoulders, this add on aims to stretch out the neck to compliment your treatment.
Add on Hot Stones 15 min extra £15     
This add on gives a unique heated massage experience as the igneous smoothed river stones deliver added therapeutic benefits, to ease tension and go deeper into the muscle tissue without the need to apply extra pressure.
Body Exfoliation  25 min  £30
A full body brush is performed first to wake up the circulation , then the  exfoliating cream is applied to smooth the skin, this is removed with warm mitts while you relax on the treatment bed.
Spa Mud Wrap 60 min  £65
This unique treatment includes a body exfoliation followed by an application of deep cleansing warm mud. You are then wrapped in a cocoon of blankets to keep the warmth in.  Then enjoy a facial cleanse plus neck, shoulder and scalp massage while you drift off and relax. You are then escorted to the rainfall shower to rinse off the mud and reenergise.
This is the ultimate spa indulgent treat without having to drive to a spa far away !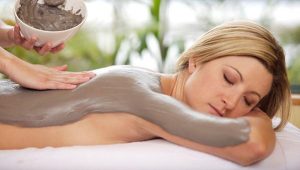 G5 Deep Tissue Massage     £40 for 30 min 
This is a vibrating machine we use to get deeper into the muscles tissue. It helps to relieve tension in the back , neck and shoulders. Also the calves and hamstrings after a heavy gym session or a tiring day.
This is also a great treatment for cellulite as it stimulates circulation. It wakes up the lymphatic system to aid the detoxification process and help smooth out the orange peel texture sometimes associated with cellulite.